Location & Info
We are located on the northeast corner of the intersection on E 24th Ave and Willamette St. Parking is available in the lot directly east of the building. Please have a seat in the waiting room and your therapist will be with you shortly.
---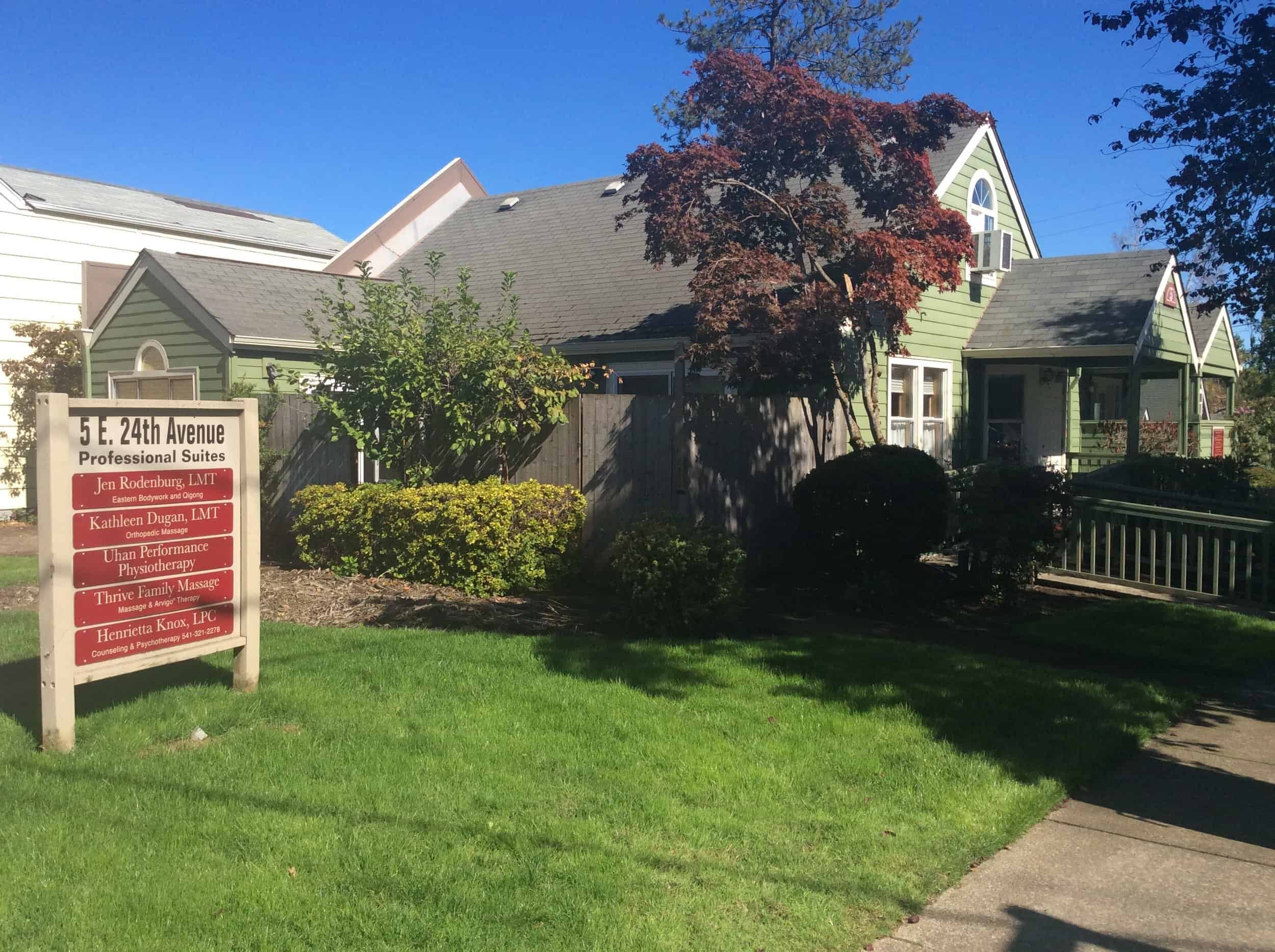 ---
More information
Last Minute Appointments
It never hurts to ask! Please text or call us directly at the above numbers or message us to see if we have any openings the day before or same day. We will get back to you if there is availabilty. This especially applies to our prenatal clients. If you are in severe discomfort or are coming up on a due date, we will get you in or try to find a referral for you!
New Clients
We are accepting new clients on a limited basis. Please call, text, or message us to confirm new client openings. Once confirmed, you may schedule a time that works for you on our Scheduling Page. You will receive a confirmation and intake via email. Please fill out this intake prior to your appointment. If you are unable to fill it out, please allow for a few extra minutes for intake during your first appointment.
Insurance
Thrive Family Massage is now billing supportive plans through Regence Blue Cross Blue Shield and Motor Vehicle Accident Claims. Please contact us prior to you scheduled appointment if you would like us to bill your insurance via our contact form. We can also issue a receipt for reimbursement for plans we do not bill directly. Please include your insurance information on the intake form when you schedule.
Late Arrivals
If you arrive late, your session may be shortened to accommodate following appointments. You will still be charged for the full session. If you arrive more than 10 minutes late, your session may be canceled. This will be decided by your therapist at that time.
Cancellation Policy
We respectfully request at least 24 hours notice for cancellations. You will be charged 50% of the service fee for last-minute cancellations. For no-show occurrences, clients will be charged 100% of the service fee. Prepaid appointments, including gift certificates, will be forfeited. Emergency situations and illness will be considered on a case-by- case basis.
Tipping
The best tips we receive are your referrals and great reviews. As healthcare providers, we do not accept gratuities in our practice.
CBD Oils
We offer CBD oils to use during your session to help relieve pain and inflammation at no extra charge.